After watching a few trailers for the Suicide Squad movie I was pretty stoked. It appeared as if DC/Warner Bros FINALLY got the memo. That what worked on the Watchmen IS NOT going to work ON EVERY FUCKING COMIC BOOK MOVIE. That it's cool to be dark and gritty and serious as long as you don't forget that COMIC BOOK MOVIES ARE SUPPOSED TO BE FUN. Then came the bad reviews….
I'm not the one to let bad reviews prevent me from watching a movie. Or start some dumb petition bitching that Rotten Tomatoes  was 'unfair' to Suicide Squad, that shit is just silly. Still, I was surprised to discover that (infamous so bad it's genius cult movie)  The Room has a higher percentage on rotten tomatoes did raise an eyebrow. I couldn't help but wonder: Is Suicide Squad THAT bad?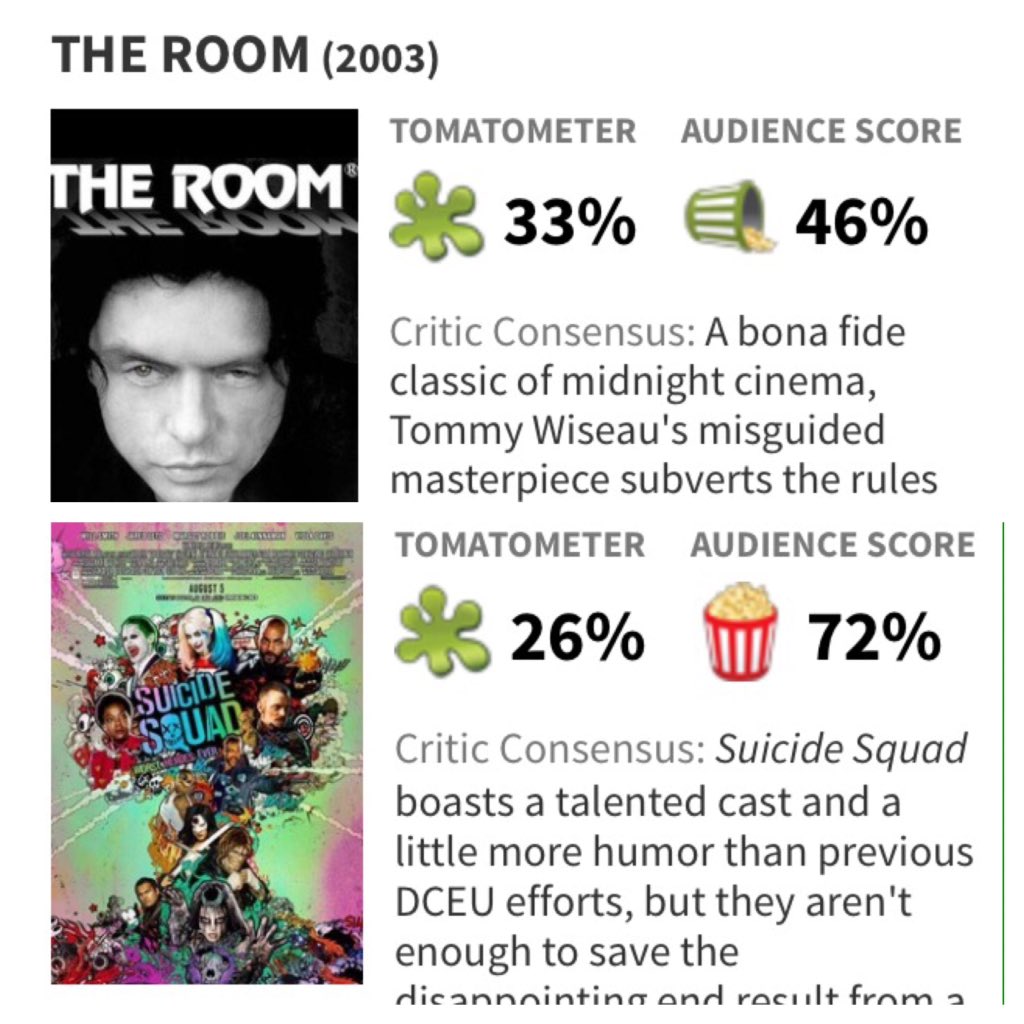 After watching the movie I had to admit that the bad reviews I read raised some valid points. The trailers were better than the actual movie.  The people who made Suicide Squad took what is a pretty cool premise (The Dirty Dozen with Supervillains) and micromanaged it into mediocrity. It is a given that every action/comic book hero needs an interesting villain to play off. Otherwise you'd be stuck in a shitty Steven Segal movie…So you figured that a movie in which the villains are the protagonists that they would have some superbadass mecca villain to defeat. But nooooooooo they had to find a way to fuck that up. I have to agree with pretty much every review I've read that the main villain in the movie (the Enchantress and her bother Incubus) are WEAK AS FUCK and that Ghostbusters knockoff showdown at the end was complete and total bullshit.
Another thing that was weak was the writing. The movie barely bothers to place all the members in the same room before it expects them to go on a mission, work as a team and act as some sort of misfit family. I'm all for suspension of disbelief and rooting for 'the bad guys' but a little bit of pacing goes a long way.The dialogue in the movie was every bit as wack as that boomerang guy whose only purpose in the movie was to be a dumb Australian stereotype. If I had a dollar for every time the movie felt obligated to tell the audience that the members of the Suicide Squad 'were the bad guys.' I could have gotten my ticket reimbursed.
There were some things I did like about Suicide Squad, Viola Davis being one of them. Ms. Davis completely owns that shit as Amanda Weller, the one bad mothe-hush yo mouth who comes up with the Suicide Squad idea. She is to Suicide Squad what Ernest Borgnerine's character was to the Dirty Dozen. Her performance is an indicator of what the Suicide Squad could have been if it was allowed to live up to its potential. Margot Robbie is on point as Harley Quinn. She gets into it, looks the part and tries add some  much needed humor and personality into the movie. But like Hugh Jackman with Wolverine before her Ms Robbie is being held back from showing what she could do with the character. I don't often s eye to eye with Rolling Stone magazine (in print or online) but agree with the article David Fear wrote in which he argues that Harley Quinn is the best thing about Suicide Squad and its biggest missed opportunity. I sure hope they don't fuck up that rumored Harley Quinn movie. It'd be cool watching her and the Joker go all Mickey and Mallory. If it's done right.
http://www.rollingstone.com/movies/news/how-suicide-squad-messed-up-harley-quinn-w432939
I don't get why the Suicide Squad movie goes through all the trouble of reintroducing the Joker (arguably the best known comic book villain) and hyping Jared Leto's performance ONLY TO HAVE HIM IN A SUPPORTING ROLE. Especially when the main villain turned out to be such a fucking dud. Just thinking of the royally wasted opportunity aggravates me. Imagine this: The Suicide Squad is sent to stop the Joker's latest scheme while competing with a pissed off Batman. Meanwhile Harley Quinn gets to be the wild card who plays both sides…That sounds to me like a Box Office Bulls-eye. HOW COULD THESE PEOPLE MISS WHAT WAS SO FUCKING OBVIOUS?
I'm on the fence about Jared Leto's performance. Even with all the tattoos , shiny suits, silver teeth and method acting stories it still feels as if he's pulling an o.k. Heath Ledger impersonation. On the other hand the times Leto's Joker is on screen he does provide some of the maniacal energy the trailers promised but the actual movie sorely lacks.  Maybe if he was more screen time he could have further developed his own take on The Joker. From what I read there were plenty of Joker moments left on the editing room. Maybe enough to show Leto finding his own groove as 'Mister Jay.'
If there is a lesson to be learned here, it is that bad reviews are not the end of the world. I was still able to enjoy (to some extent)Suicide Squad despite agreeing with most of the bad reviews. I'm that I enjoyed the movie more because of the bad reviews. The lowered my expectations enough to almost overlook the fact that the Suicide Squad movie didn't live up to what the trailers promised.  I know it's tempting to hate a critic when they trash a movie you love (I've been there) but critics are people too. They're merely giving their opinion on a movie. You don't have to agree with it. Wanting to shut down Rotten Tomatoes over a bad review just makes you look like a dick. The main difference between them and you and your friends is that critics get published and (usually) paid.